Training in business and social skills increase your employees' confidence when communicating the company's image, conducting business and exercising interpersonal skills, insuring the building of rapport and a trusting relationship with your clients and associates

.
Business etiquette covers so many facets of human interaction from introducing people correctly to talking on the telephone, hosting gatherings, writing letters, electronic etiquette, international etiquette and so on………
We hire people for their technical skills and fire them for the lack of interpersonal skills, their poor manners.
Business is conducted in office and places of business as well as at breakfast, luncheons, dinners and parties, meetings that on the surface seem simple. However, many professionals are not at ease at such functions. They are not sure of the etiquette and protocol surrounding these occasions. Knowing how to take advantage of the potential in these situations adds to an individual's overall effectiveness as a representative of an organization - benefiting the company and the individual.
Julia answering etiquette questions related to dining and table manners at a
Social Skills in the Business World workshop luncheon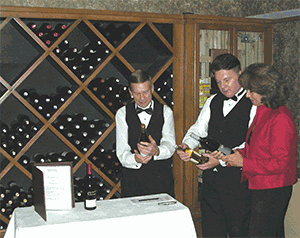 Choosing wines to serve at a Wine Symposium at Maison et Jardin in Orlando.
Julia talks about wines and food pairing at these events
Business Protocol

Correct business protocol gives you the competitive edge in today's market place. It is another form of business intelligence. Through business protocol training you get the practical advice you can put to work in business and interpersonal situation immediately
Professional Presence
Is a whole set of behaviors and attitudes. It is non-verbal and verbal communication. This program gives you the knowledge and tools to project a sincere and solid professional presence at all times

Social Skills in the Business World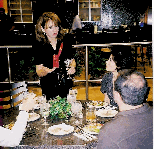 Gives you that extra edge so you will feel condifent and at ease, assured of your good manners and
graciousness as a host or guest. You will embrace the opportunity to organize or attend business
social and dining events. Much of the etiquette and protocol skills presented in this workshop transfer
to the attendee's personal life!
Are You Being Served?
Training program for hospitality, restaurant and catering staff
Say the Right Thing
Julia will guide you through the pitfalls of dealing with subjects like illness, death, divorce, being fired and scandal when you are interacting with colleagues and peers

Electronic Communications & Cell Phone Etiquette

Don't Underestimate the positive Impact of "Thank You" in notes, letter, emails and gifts.
Email
Post Office Box 504, Windermere, Florida, 34786-0504